The biggest darknet market by number of listings and possibly sales volume, ASAP, announced its plans to close up shop on Dread, July 12th. In a post titled "Its time for the goodbyes!!! ASAP Market is planning a retirement," admin LeChacal stated that users will be given the opportunity to withdraw coins from their market account balance for the next two weeks, which would put the last day to withdrawal around July 26 or 27.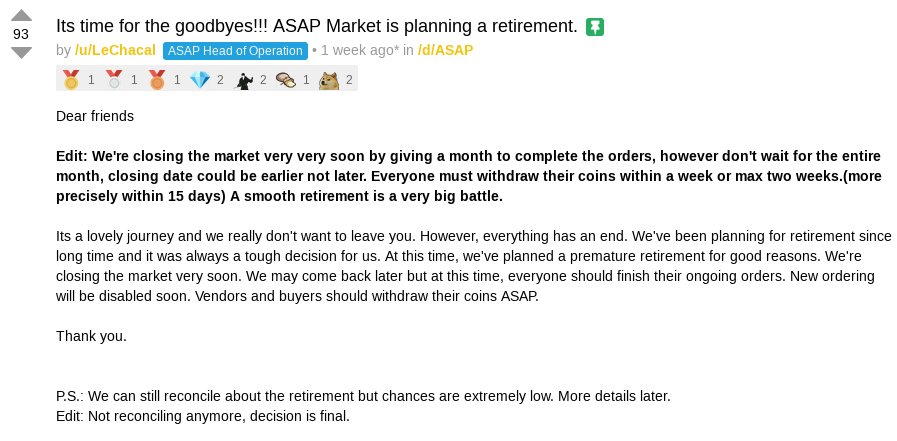 ASAP's Dread announcement
Several comments under the retirement announcement post praised the ASAP management for their professionalism, noting that exit scams and/or unplanned closures tend to be the norm in the darknet market industry, and most users seemed grateful for the grace being indicated by LeChacal. A respondent of note was Paris, Dread admin, who described his experience of dealing with ASAP Market as "a pleasure" and that he wanted to "personally wish (them) all the best in (their) retirement."
The market has disabled the placement of new orders per a message on its home screen posted yesterday, which reiterates a 15-day window for BTC and XMR withdrawals and assures that all disputes will be resolved before it is taken offline. The minimum withdrawal amount has also been reduced for users with small balances. Existing users can log in and access the market per usual but new registrations have been disabled.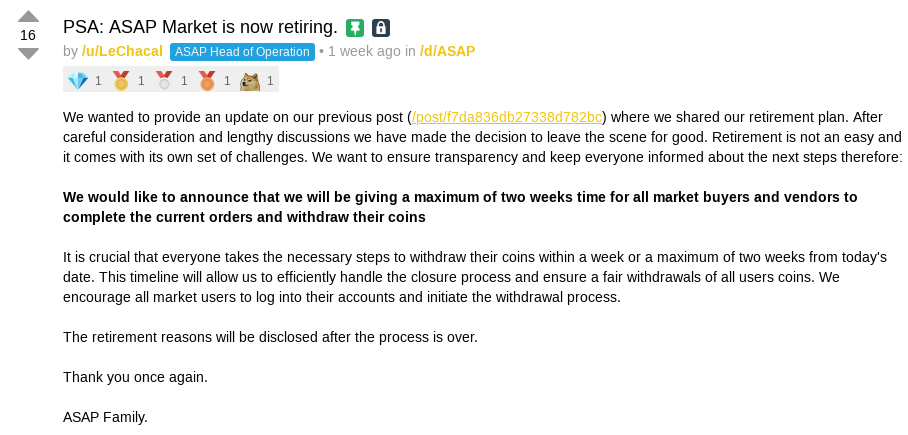 ASAP's follow up post
ASAP Market originally opened under the name ASEAN Market in March 2020 and slowly rose to prominence over the years, assuming the #1 darknet market position after the closure of the second AlphaBay in Feb. of this year. While not immune from the problems that plague any successful darknet market (such as unexpected downtime, fraudulent vendors, and DDOS attacks), ASAP was generally regarded by the DNM community as a competent and sophisticated operation which worked closely with its buyers and vendors to correct problems and provide a smooth market experience.
At the time of its closure announcement, ASAP had over 123,000 listings, rendering it one of the largest darknet markets ever by this particular metric.

An update on the retirement process