Long-time anonymous BTC/XMR exchanger and coin mixer Elude is seemingly in the midst of conducting an exit scam, per warnings posted by a whistleblowing staff member on Dread.
In a PGP-signed message posted in several locations on Dread, user Elude, who had been answering Elude-related support questions on the forum for close to five years, bluntly stated the current situation with the long-time service:
Hello,

I'm sorry to say that the Admins have decided to end the Elude project with an exit scam.

All withdrawals are disabled.

I'm very, very sorry for anybody that has already lost coins.

I was messaged about this half an hour ago.

DO NOT USE ELUDE!

Hugely sad to see it end this way.

Future communication may be difficult from this account.

Please add the following PGP key, and I will create a new account with which to communicate from:
The signed message can be found here.
Although the PGP key that signed the message had been swapped out for a new one – in order to prevent the site's owners from accessing the Dread account to remove the warning message by the whistleblower – veteran members and staff of Dread confirmed that the signature was valid and signed with the old Elude key.
Dread user Elude revealed shortly after posting the warning that they were hired simply to provide customer support and had no access to the site's infrastructure. They also claimed that they were "offered $1k per week to keep quiet."
Users of Elude had reported several problems with its services in the past, although most issues were resolved shortly thereafter. Three weeks ago, several users of the exchange reported not receiving their Monero, but the issues were mostly cleared up, meaning the decision to exit scam had only occurred more recently.
The most recent complaint was lodged eight hours ago by a user who had reported performing a BTC to XMR exchange and was unable to withdrawal their XMR. The complaint was responded to six hours later by elude, who wrote, "I'm hugely sorry, but you won't be seeing your coins."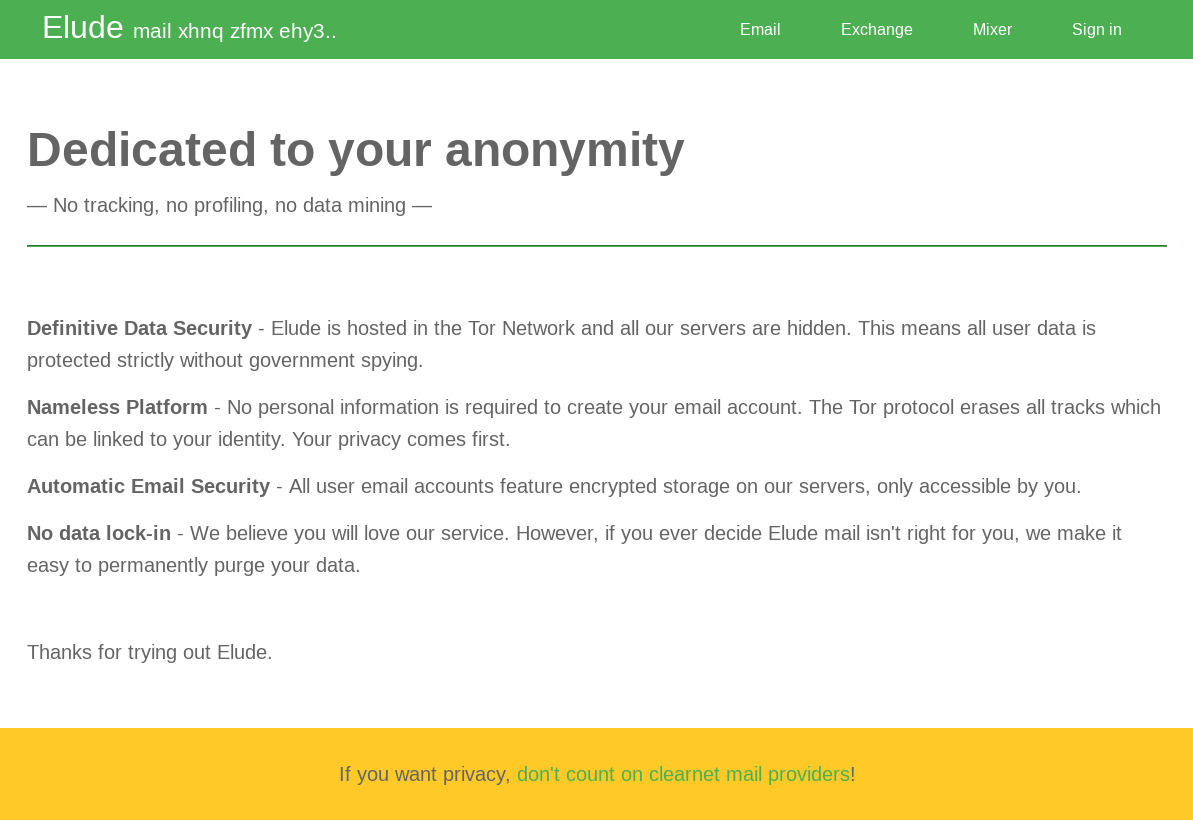 The Elude homepage
Elude, which describes itself as a "friendly anonymous tech collective," has been in operation for over five years. In addition to acting as an exchange and coin mixer, they offered a free email service which was somewhat popular among dark web users. Although this service is likely to stop functioning as well, the certainty of its discontinuation is not yet known, as is the certainty of the exit scam. The Elude Tor site and all its services remained online as of the writing of this article.